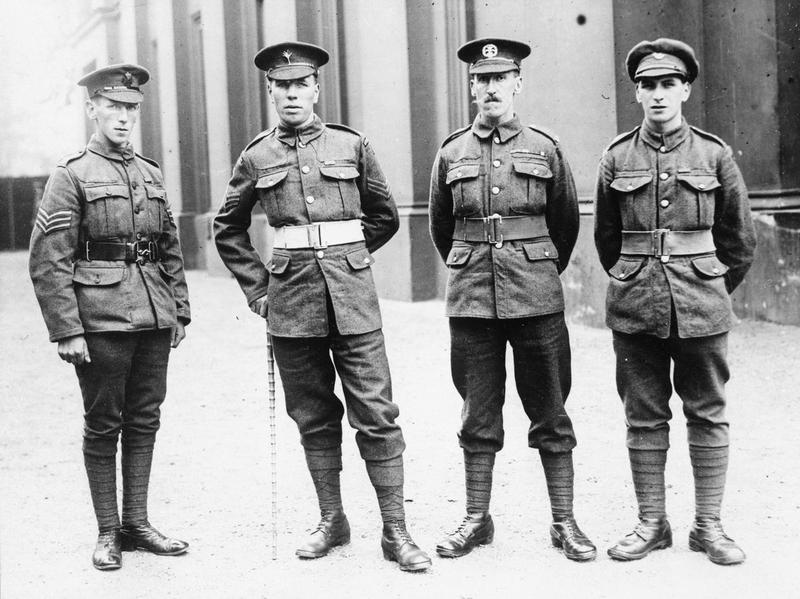 A Group of VC Winners © IWM (Q 54045): William Ratcliffe is second from right.
1900:  William was living at 13 Parliament Street, with his married sister, Mary Jane Rowan, and working in Raffles Street for Mr Ranson, a cow keeper.  On September 19th, keen to serve his country, sixteen year old William enlisted in the South Lancashire Regiment, 3rd Battalion. He adjusted his age by two years and gave his date of birth as January 1882. His records describe him as 5' 5 3/8" tall, weighing 115lbs with a fresh complexion, brown eyes and brown hair. He had a scar on the back of his left shoulder and right wrist.  It is not clear why, after 49 days, he transferred to the Durham Light Infantry. However, several newspaper reports outline how he remained with the Durham Light Infantry and fought in the South African Campaign then spent almost nine years with his regiment in India. After his discharge William returned home and found work at the docks.
1914:  When Britain declared war on Germany William was quick to enlist and in August he re-joined the South Lancashire Regiment, this time serving with the 2nd Battalion, "D" company. He was proud to serve his country and in a letter home to his sister, Mary Jane, he reminded her that he needed "no dragging in by the teeth." He later remarked that he had no time for pacifists or those Stockholm fellows.
1917:  Although, only 33 he was considered to be an old soldier. William, and his mate Sam Calvery, were kept busy by their sergeant, Hugh Higgins, as stretcher bearers.  However, being considered an old soldier did not prevent him carrying out many reckless acts of daring.
When a soldier friend called to see William's sister in Brindley Street he recalled the story of William overawing [sic]  a German officer, relieving him of his revolver, and most important of all, selling it for 75 francs, then having a jollification on the proceeds.
William gained the Military Medal at Messines Ridge by counter-sniping and wiping out seven enemy snipers. After being decorated on the field he sent a note to his sister, "I got the Military Medal today. The general pinned it on my breast. He said he would see about another one. We can get no fags out here."
On the 14th June William earned the V.C for most conspicuous bravery.
After an enemy's trench had been captured , Private Ratcliffe located an enemy machine gun which was firing on his comrades from the rear, whereupon, single handed and on his own initiative, he immediately rushed the machine-gun position and bayonetted the crew. He then brought the gun back into action in the front line. This very gallant soldier has displayed great resource on previous occasions and has set an exceptionally fine example of devotion to duty.
On September 24th, at a Barrow camp, William was officially presented with the Military Medal by Lieutenant Herbert D.S.O and two days later King George V awarded him the Victoria Cross at Buckingham Palace.
Here you can view a video of William being awarded his VC from King George V – this film includes a variety of footage but there are several shots of William Ratcliffe on it.
1919:  A 'Class Z' note on William's medal index card shows that he was discharged to the Z Reserves in February. This meant that he would return to civilian life but be ready to be recalled if necessary.