Jim Fitzsimons, born in 1919, recalls his life before the war in Upper Williams Street, part of St Augustine's parish.
These pages are transcribed from interviews with Jim in 2009. If you would like to read the full text of Jim's book, St Augustines: A Brief History, click on the link at the bottom of this page.
______________________________________________________________________
My name is Jim Fitzsimons. I was born on the 19th of December 1919. My father and my mother were both Irish. My mother met my father in a park in Belfast. They got married and no sooner were they married, – about a month, when my father, being an ex -soldier, was mobilised again to go away with the army and he ended up by going to South Africa. He was in the Boer war and he was away for four years.
The only relative my mother had was her step-brother back in Ireland who himself was a soldier; a lot of Irishmen were in the British army. She had moved away from her job in the farm round the area where she was born after she lost her mother.  So he tried to contact my father and found out that he was in South Africa and would be away for quite a long while.
After four years my father came back. Then after a while, things were so bad in Ireland that he said that they'd have to move away. At that time my mother was expecting her first child. So they came to Liverpool and found a house in Hunter Street near Scotland Road. From there they moved to Dublin Street to share a house with an elderly couple and from there they moved to Upper William Street where they settled down.

The first child that they came over with from Ireland had died from consumption. For a while my mother had to live with the child in the workhouse in Brownlow Hill.
The workhouse was very rough, it was a hard time. I never knew the child. But living in Upper William street she had a further seven children. I was the youngest.
 My father got a living in Liverpool being a dock labourer. Now dock lab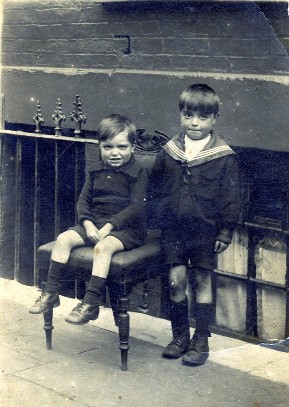 ourers didn't have an easy time in Liverpool. They spent their working time being casual. Being casual meant that they didn't have a regular full time job they may have got one days work or even half a days work; in good times, when plenty of ships were around, they got two or three days work. But no family could organise their outlay by regular money, it was always casual.
That's when the family was very young, of course, so it was always a struggle for my mother, always doing the washing and the cooking, moving around looking for cheap shops for food. That applied to a lot of people, not just us. There were many families worse than us but nevertheless you just got on with it.
I had always lived in St Augustine's Parish which was all I knew as a child. I went to St Augustine's school and lived in Upper William Street, the street I was born in, more or less all my life until I joined the army when the war broke out.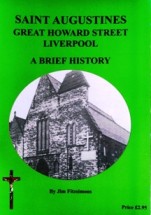 Click on the image to download Jim's book.
Please note that this is a scan of this document, taken with Jim's permission. The quality is not as sharp as the original document, which is now unfortunately out of print.
Next pages